NEEDLE SENSOR 4022
The NEEDLE SENSOR 4022 monitors contact-free the needles on single, double, jacquard and interlock Circular knitting machines. Once a defective needle has been recognized, the NEEDLE SENSOR 4022 stops the machine immediately and indicates the exact position of the broken or bent needle. Depending on the type of the machine, the NEEDLE SENSOR 4022 usually consits of 1 control unit and 1 or 2 optical heads.
Machine is immediately stopped once a defective needle has been recognized
Detects breakage and bending of cylinder and dial needles
Hand-held terminal 8024 as setting aid

Features

4-digit display for quick identification of the defective needle

Colour-coded LED status display for each optical head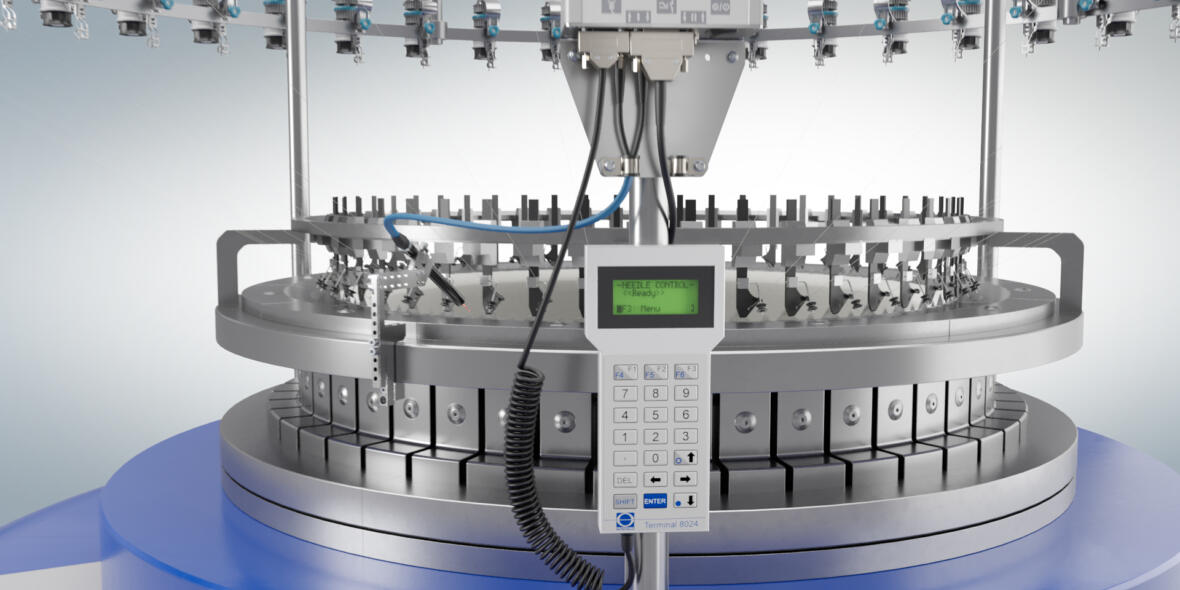 Hand-held terminal 8024 as setting aid

Easy and safe replacement of the optical lens

Also suitable for high-speed Circular knitting machines
Operation
The optical head projects a narrow spot of light onto the passing needles, which reflect a part of the light. These light pulses are fed to the control unit via fibre-optic cable. The control unit automatically adapts to the needle sequence corresponding to the machine speed and the gauge of the needles. If a pulse has not been received at all or not at the correct position due to a needle defect, the machine control is triggered to stop. Simultaneously with the stop signal, a needle counter begins to work. It indicates the number of needles that have to run past until the optical head reaches the position of the defective needle. For the machine operators this is a valuable support when it comes to locating and to replacing a defective needle. Missing needles can be masked out e.g. when working with separating rows or when producing patterns. To avoid false stops, the number of revolutions before stopping the machine is adjustable.
Product tour




| Description | Value |
| --- | --- |
| Sensor range | 15mm +/-1 mm |
| Needle sequence | 15/s - 5000/s |
| Gauge | up to E50 |
| Supply voltage | 11V - 28 V AC/DC |
| Average power consumption | 5 VA |
| Output | Relay output, switchable (max. 60V) |
Questions?
Submit your data and you will be contacted by one of our experts